I went to Kinokuniya yesterday and I was lured to buy books, but my money indicated that I can only manage to buy one (even though there are a lot more I'm dying to buy!). The title is a bit naughty. Here's the summary of the novel. I haven't read it yet so I can't elaborate much.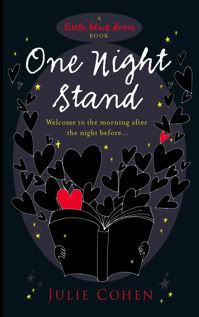 Title
: One Night Stand
Author
: Julie Cohen
Publisher
: Little Black Dress (2008)
ISBN
: 978 0 7553 3483 4
Price
: RM19.90
Elanor Connor has written lots of steamy novels, but sadly her own life is more mundane. In fact, the nearest she's come to passion for ages is having to listen through thin walls of her house as friend and neighbour Hugh seduces an endless stream of women.
But then Elanor has a one-night fling of her own, waking up alone, repentant, and as she later realises, pregnant. Desperate to find her missing lover, if only to tell him he's going to be a father, she enlists Hugh to help her search. But should she be looking closer to home to find out what it is she

really

needs?